While I'm here, let me show you a finished
Odessa
so I can send the pictures into
Grumperina
's gallery.
I cannot wear fitted hats without looking like a 14-year-old skater boy, so I knit mine on 8's out of worsted instead of the DK & 6s recommended by the pattern. Ergo, slouch, but not too much. I didn't learn how to use my macro mode until yesterday (seriously) so no up close pictures.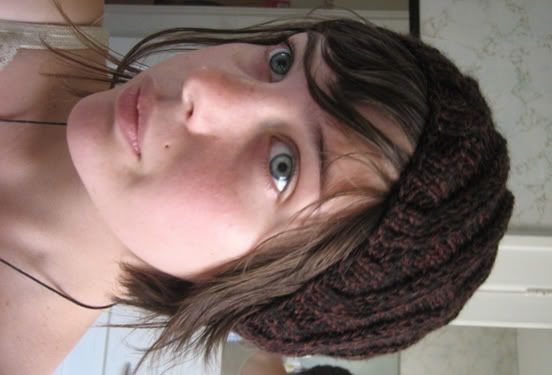 Cascade 220 in a marled black and brown...I barely used half the skein, and could probably get another hat out of it but can't be positive without a scale.
Knit on Bryspun DPNS & a Clover circ.
Also, no beads. So not me.
I love this hat more than life itself. It's perfect and knit up easily in a little over a day. Thank you Grumperina!