In a remarkable act of foresight, I finished this Christmas present in April while I was in Morocco visiting family. I only point that out because while I traveled for two weeks carrying everything I needed in a Jansport backpack, I brought this scarf, plus its extra skein and four balls of sock yarn. I prioritize.
It's Brooke Nelson's
Column of Leaves
scarf, knit out of Cascade Pastaza. I've always had trouble capturing the color in pictures; it's a gorgeous British red of the sort only a matriarch like my Nana can pull off, but it's got this amazing blue and yellow heathering that adds a whole other dimension to the yarn. I love Pastaza fiercely.
I was putting away miscellaneous strewn-about needles just a couple minutes ago and realized that the set of straights I always thought were 9's are actually 8's. Considering I started this scarf on 9's and then apparently switched to 8's when I splintered a needle, it has remarkably even gauge. (No, I do not own a needle gauge, I prefer to live dangerously.)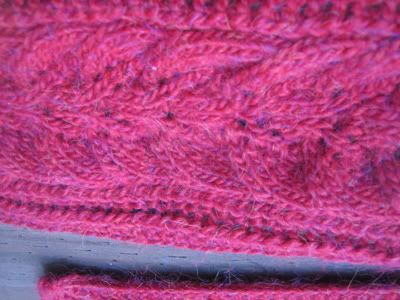 The color in this picture isn't very accurate, but you can really see the blue.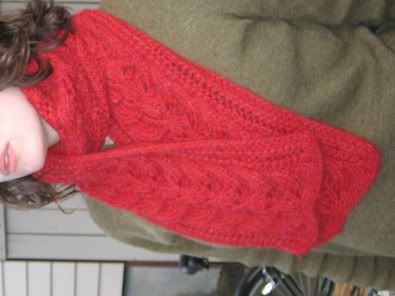 It turned out a little wider than I had hoped - I think Pastaza is a fairly heavy worsted and would probably use a thinner yarn next time.
Tomorrow: more FO's and mayhaps..some good news. We'll see!