I grew up in Alaska, and my dad still lives there, so for Thanksgiving I went up to visit him. Since I would be flying, I figured this would provide ample time for Christmas knitting.
Packing list:
- Bayerische socks (Viking Boy)
-Two skeins of Cascade Pastaza and two skeins of 220 (thrummed slippers for my dad and his girlfriend. Did I mention I was adding to my list?)
- One skein Malabrigo (Calorimetry for my mom)
- Leftovers from Odessa (Pretty sure I lost the first one; [yes, I am so very scatterbrained that I can't even be sure if I've lost it] should have enough left in the skein to make a second.)
What really happened:
Bayerische socks
(sorry for the huge picture, will resize it when my computer can handle opening Photoshop again)
Nearly finished first sock, tried it on, realized it fit me perfectly, and would therefore be too small for Viking Boy. Beat chest savagely at though of having to knit THREE socks, sighed, resigned myself to knitting nothing else for a month, went to cast on second sock on 1's - realized I had forgotten to bring the second skein of Lorna's Laces. ALDHKKAFLSHDGLKHDGDGALKSDF
Thrummed slippers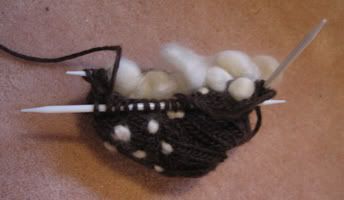 Be grateful I did the experiment for you. No problem, right? Just a big sock with thrums. I gleefully bought 8 oz. of Blue Faced Leicester, made a big pile of thrums (if you think you get weird looks knitting in public, try sitting in an airport tearing apart top), and cast on. All went well until I got to the heel flap, where, in accordance with my thrumming pattern, I was either going to have to thrum on the purl side or k2tog on the purl side. Both looked like crap, I said to hell with this, I have better things to do with my time.
Instead, I am giving my dad's girlfriend the yarn (since she knows how to knit, just needs inspiration) and was going to knit my dad a colorwork hat, but then he insulted wool, so he is getting an Amazon.com gift certificate instead. Seriously.
Calorimetry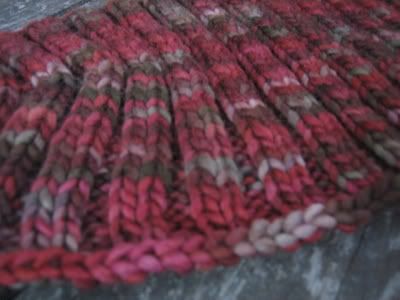 Turned out lovely, despite Malabrigo's attempt to thwart me with pooling (luckily, the short rows put an end to that. I get way, way too emotional about variegated yarn). Since this pattern is notorious for turning out huge, I only cast on 100 st, then repeated row 5 until it looked about half the size I wanted it. Just needs a button.
Worried that I wouldn't finish Viking Boy's socks in time, so I bought a pair of 3's and cast on a new pair of socks with the Cascade 220 I had with me. My generic 1x1/3x1 rib pattern, with a heel flap since I have lately become enamored with these. Yes, the heel may be slightly pointy. We will not speak of this.
First toe needs to be grafted (this is why I knit my socks toe up), but my god, worsted weight socks are satisfying.
And then I was worried I wouldn't have enough to knit on the plane so I went to Jo-Anne and bought four skeins of Wool Ease and a #8 circ and cast on this garter stitch scarfish monstrosity which I am remarkably fond of. It reminds me of peppermints. You will note that I bought Wool Ease, despite its 80% acrylic content - I usually poo poo on acrylic but I am a sucker for Wool Ease. I think it's the colors.
But first I left my notions baggie in the seat back pocket on my first flight. Go figure.
"Gee, I probably shouldn't put that there. I'm going to forget it for sure. Yeah, better take that out."
Next day later, looking for cable needle: "FUCK!"