It's a sock!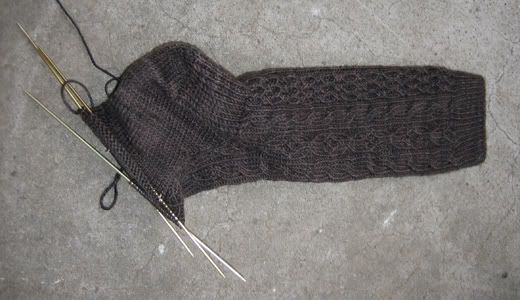 After a couple false starts, much progress was made, mostly thanks to my discovery that I can, in fact, knit at work. It's a bit akward when a customer shows up right while I'm in the middle of a 7 stitch ribbed cross, and I know there will be no words for my fury when I finally and inevitably get guacamole on them, but considering that I can finish a little over a pattern repeat while there, I think it's worth it.
Speaking of seven stitch ribbed crosses, these little trollops were the reason I've had so many false starts on these socks. I had never cabled without a cable needle before, and she didn't give instructions on how to do them
with
a cable needle. Fortunately, the kind folks over at
knitting
were able to
help me out
. Check it out if you're having trouble. Otherways, I have finally become a cabling-without-a-cable needle convert, at least for constant tiny little twists like the ones in these socks.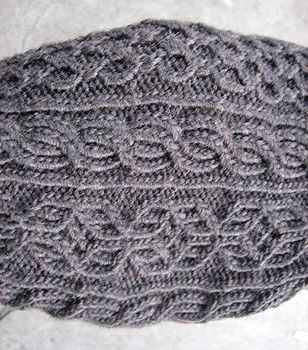 Given my speed so far, I think I might actually finish these in time for Christmas without too much pain. The second one is going to be a serious, serious labor of love.